THIS STONE
WAS ERECTED
BY THE INHABITANTS
OF THE PARISH
TO THE MEMORY OF JOHN BRANFORD
WHO DIED MAY 16TH 1844
IN HIS 99TH YEAR.
John Branford's gravestone is one of the first you see when entering St Catherine's Churchyard, Ringshall. John's final resting place is located under the shade of a tree, beneath a stone erected by the inhabitants of Ringshall parish in Suffolk "to the memory of John Branford who died May 16th 1844 in his 99th year". He sounded like he had a tale or two to tell and I wanted to know more.
There was a brief mention of his passing in one of the local papers, but no other information was given:
On Saturday last, at the advanced age of 99, Mr. John Bramford, of Ringshall.
(The Suffolk Chronicle; or Weekly General Advertiser & County Express. 25 May 1844, p3, c2)
John, who was more commonly recorded with the surname Bramford, can be seen on the 1841 census at Ringshall in the household of Ann Ramsey. Frustratingly, the 1841 census gives no relationship information but since people living in the same house often had family connections, researching the Ramseys was my best bet.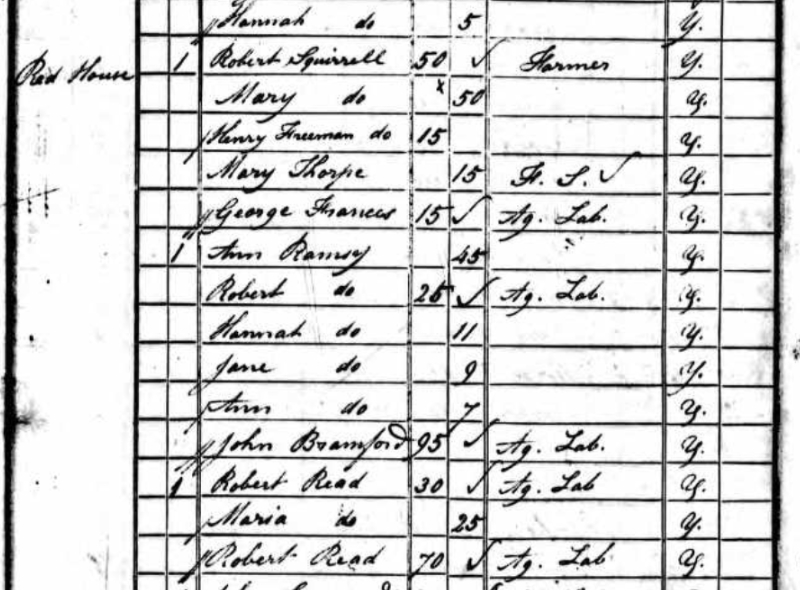 The Ramseys were recorded as neighbours of the Squirrel family at 'Red House'. Redhouse Farm was a 19th century farmstead located between Ringshall and Wattisham (and north of Great Bricett), across the road from Ten Wood. It has been totally demolished and is now a part of Wattisham Airfield (Redhouse Farm location on modern map). Few residences in the area were named in the 1841 census so it is unclear how close the Ramsey family were to Red House, but their household entry was immediately after.
The baptismal records indicated that the children on the census were Ann's and their father's name was Robert Ramsey. Interestingly, the births of her eldest children were recorded at the nearby Wattisham Baptist Chapel but from 1824 they were baptised into the Church of England at St Catherine's, Ringshall  (The last recorded at Wattisham Baptist Chapel was Mark on 22 March 1820). Luckily, the eldest child Robert (born about 1815) was with his mother on the 1841 census and I was able to locate an 1815 marriage between Robert Ramsey and Ann BRAMFORD. Aha! First evidence of a family connection.
Ann's baptism at Wattisham in 1793 seemed to indicate her parents were the John Bramford and Anne Green who married at Wattisham in 1790. Could this mean John was her father? He would have been nearly 50 at the time, which wouldn't rule him out, but a younger father seemed more likely. Perhaps Ann's father was the son of our John and she was his granddaughter?
I thought this must have been the case when I came across the death/burial record of another John Bramford, son of John Bramford, at Wattisham in 1812. However, an estimated birth year of 1783 was given in the record which made him far too young to be Ann's father, and this guy's mother was 'Mary Figg Bramford' not Anne Green. The 1775 marriage record for this couple at Wattisham showed her maiden name was actually Mary Pegg. Our John would have been about 20 in 1775 – a common age to marry.
John had three children with Mary and then the baptismal records stopped in 1785. I was unable to find a death/burial record for Mary but in 1790 "widower" John Bramford married Anne Green and went on to have six more children – one being the Ann Bramford who married Robert Ramsey.
So, the Ann Ramsey John was living with at the time of the 1841 census was his daughter after all. It turns out, less than a year after that census night, Ann died and was buried in the same churchyard.
John had outlived two wives, at least four of his children, and some grandchildren. He had lived through the reign of four monarchs, the publication of the first English dictionary, the American war of independence, the Napoleonic wars, the abolition of slavery, and the launch of the first public passenger train. 
And I would never have known anything about him, if the good inhabitants of Ringshall parish hadn't erected that stone.