Part of the Stonewall Johnson series of posts – Who was the mother of Mary Ann Johnson?
The marriage entries for St Stephen's Church, Birmingham show that Florence Ann Yeomans (eldest daughter of James Yeomans and Mary Ann Johnson) married Alfred Hickman in 1898. But did she?

Alfred was recorded as a bicycle maker, as was his father, Joseph Hickman. One of the witnesses was Joseph Hickman – but this can not be his father, who was noted as 'deceased'. Presumably it is a brother or other relation. The other witness was Sarah Smith.
Alfred or Albert?
Florence signs her name but her husband makes only his mark – nothing unusual for the time. However, careful examination shows that in place of Alfred's signature is "The mark of Albert Hickman" – not Alfred. So which name is correct? You would imagine the official name, right? The one recorded in all the indexes as being Florence's husband. But I'm not so sure. You see, I'm having a very hard time finding 'Alfred' after 1898 – maybe it's because he was actually named Albert.
Shortly after their marriage, Florence died. She appears to have died either during or soon after the birth of her first child, who was also given the name Florence Ann. So using his wife's name as a reference when searching the 1901 census for Albert/Alfred is not an option. Neither is using their daughter's name since she also died soon after birth.

However, I did come across a baptismal record for Florence Ann Hickman that seemed to definitely be a match. This child was born 28 April 1898 and baptised at St James', Ashted in the 'County of Birmingham' on 1 June 1898.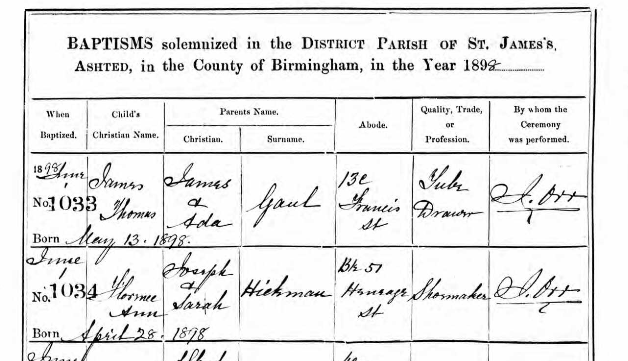 Brother Joseph?
The parents of little Florence were recorded here as Joseph and Sarah Hickman (shoemaker). Could this be the Joseph and Sarah Smith who signed Florence's marriage record? My imagination conjured up possible scenarios… 'Joseph is clearly a brother. He and Sarah Smith must have married soon after Florence and 'Alfred', and took on her tiny infant as their own when Florence died since the grieving father would be 'unable' to do so himself. Or perhaps they had simply taken the 'sickly' child to be baptised as quickly as possible and their names were mistakenly recorded as the parents..?'
But there was a snag:

There was another death of an infant Florence Ann Hickman! This hadn't come up earlier as I had restricted the search for Florence Ann Hickman deaths to only in Birmingham. Opening up the search for births showed that Joseph and Sarah WERE the true parents of the Florence Ann baptised in Ashted (part of Aston registration district). 

Using the maiden name of the 'other mother', I was able to find the marriage record of Joseph and Sarah – her maiden name was Holt.

So what I had imagined was proved incorrect. Joseph did not marry the other witness 'Sarah Smith' soon after Florence and 'Alfred' married (he had actually married a different Sarah 7 years previous). Nor did he nobly take on his brother's child and baptise her as his own.
But were they at least brothers? It still seems very likely. Joseph's father's name was also Joseph Hickman (deceased) but no profession was given. Tracking Joseph and Sarah Hickman down in the 1901 and 1911 censuses using Joseph's occupation of 'shoemaker' supported the age given on his marriage record (an estimated birth year of c1868) and gave his birthplace as Birmingham. A search for a birth with those details gave me:

And a search for other children with the mother's maiden name of Preston gave me:

Not Alfred BUT an Albert. And the birth year matches the age given when 'Alfred' married.
At this point, I believe it's very likely that Alfred was in fact Albert, and he and Joseph were brothers, but the search continues…
Evidence supporting:
the name Albert mentioned on the Alfred marriage record;

both fathers named Joseph and deceased;

matching ages on marriage records;

Joseph as witness on Alfred/Albert marriage (matching signature to his own marriage record);

Joseph also had a child named Florence Ann (seemingly in honour of Alfred/Albert's wife)
Side note: The father Joseph Hickman appears to have been 'boarding' with a Theodosia Johnson on the 1881 census (daughter Emily H Johnson appears to be his – they married later that year in November)
Contradictory evidence:
The brothers from the above GRO search image, Albert and Henry, appear as the 'children' of Joseph Taylor and Mary Ann Hickman in the 1881 census (boarding with Robert Taylor in 1891)